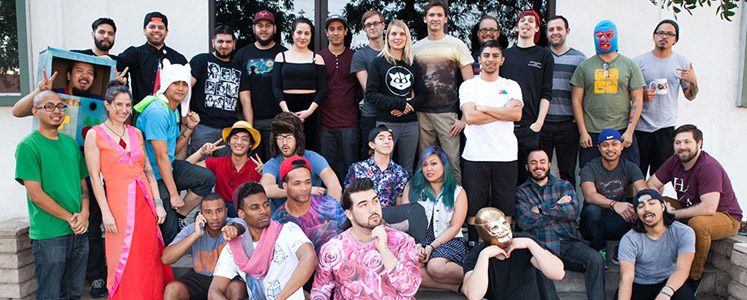 Interviewing Julia Gifford from Startup Vitamins
5 May 2015
Welcome back to our story about a horrible distress (total decaf), a dead body (a mug cap) and a old-fashioned hero (Daniel). If you missed the first the part, you can catch up here. So let's dig in to what makes a brilliant customer experience in e-commerce. Julia Gifford from Startup Vitamins, please!

Happened last time: so I decided to find out what's the magic behind the great customer experience in Startup Vitamins. Luckily I managed to get in touch with Julia Gifford from Startup, who was just the right person to talk to. So let's find out!
Julia Gifford's Background and Experience
My name's Julia Gifford. Right now I manage content and communications for Startup Vitamins, Printful, and other Draugiem Group startups. I started working with the Group way back when Startup Vitamins and Printful didn't even exist yet. We were a three-person team, and back then we were all involved in the majority of the decision-making, and among all of my tasks I also managed most of the support questions and customer service. As the startups expanded, we were able to expand our team and I slowly moved to a more content-centric role.
Startup Vitamins in the second "inspiring quote"
Startup Vitamins is our second "inspiring quote" e-commerce store. The first being Behappy.me, which offers generally inspiring quotes on products. Startup Vitamins was created when the Draugiem Group moved to a bigger office in Latvia, an ex-art gallery. Our founders were looking for startup-related art to put up on those big, white, empty walls, but couldn't find anything on the market. And so they created Startup Vitamins to fill that niche. Since then it's grown to be more than business-related posters, and we offer things like t-shirts, mugs, pillows, etc. And our products can be found in some really incredible places, like Twitter, LinkedIn, Google and Nike offices, even the United States Congress. (editor's note: …and at Sofokus) 🙂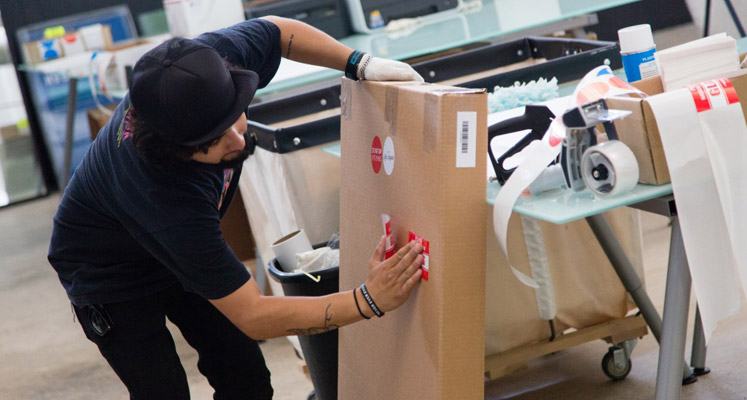 Printful is actually a logical continuum of work at the Startup Vitamins
Printful grew out of Startup Vitamins. We began getting requests from other poster designers, asking us if we could print their designs for them (because they really liked our poster quality). At first the answer was – absolutely not! But again, where there's a need, we created a solution. We started offering on-demand poster-printing, and then that also expanded into on-demand print product fulfilment for a whole set of products. Now we integrate with the most popular e-commerce platforms (like Shopify, WooCommerce, Bigcommerce, Storenvy, etc.) and any orders immediately are sent to us, and we print and ship the product.
Startup Vitamins Very Much Lives by It's Core Values
Our team is originally from Latvia, and our founder Lauris Liberts had a dream of making a globally successful company. He had already build the largest social network of Latvia called Draugiem, and it was time to aim a little higher. It's kind of thrilling to be creating a product that so many people love, from a country so few people have heard of.
Our company has three main values we stick to – experimentation, showing initiative, and integrity.
We're quick to try out an idea if we have one, and equally quick to realise when it just isn't working out. Everyone's invited to come forward with their ideas and make them happen. In that way, the company is very empowering.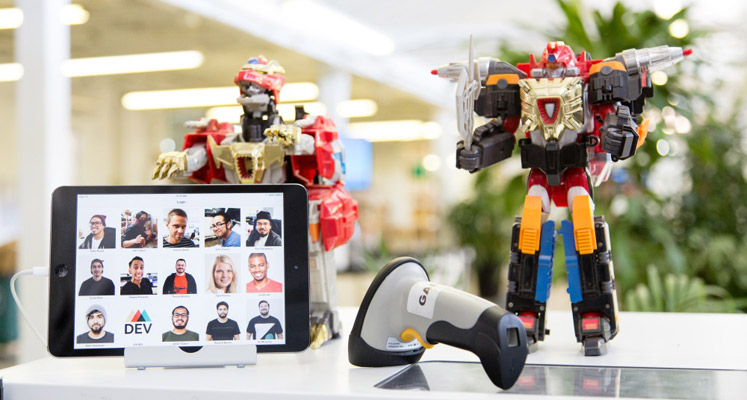 As our founder Lauris often says, "If you keep shooting pucks towards the net, eventually you'll score".
Great Customer Experience Arises from Listening of Customers
The first step is really listening to what your customer is saying. When you put yourself in their shoes, it's much easier to quickly reach the decision of what the best-possible response is.
Going out of your way to make their life easier is also a big one. It's easy to send them a link to your FAQ section and have them search for the answer themselves, but it's much nicer to receive a personal email explaining everything in their question's particular context.
Customer Service Needs Discipline, Hard Work and Technology Support
Customer service is something we've thought long and hard about. We use a software called Reamaze to manage email support questions and social media support questions. We use Olark for live chatting. We have three dedicated support people in our California office who deal with support during US hours, and we have another support guy in Latvia, handling support questions while the US (our biggest market) is sleeping. That way we can cover more time, and get responses to people faster.
Besides our dedicated support team, we have many other employees who deal with customer service. Sometimes when there's a technical question, then our developers themselves answer the questions (which is extremely rare, but boy does it make a difference). Out CEO can step in at any time as well to answer some questions.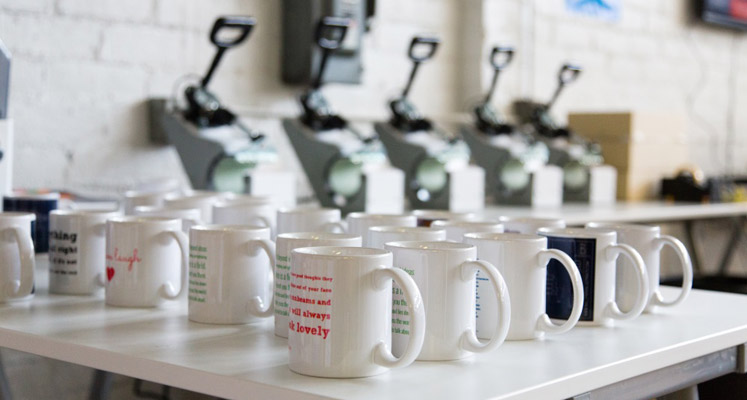 Customer Experience Is Measured With Several Metrics
There are different metrics we use to make sure we're delivering the best possible quality.
We've developed our own internal policy that everyone knows. A support email should be answered within 1 business day of receiving it.
We use Olark's "star reviews". If there's a negative review, then that case is looked at.
We have 30 day customer reviews. Sometimes that shines a light on a possible issue, which we then deal with.
The "appreciate" button that comes with each support email sends the message to that support employee. And what better kind of reinforcement is there than positive reinforcement?
They Are Still Challenges Around
Right now our biggest challenge is developing our niche and creating better products for offices. We're also thinking about innovative new directions to expand in.
e-Commerce Trends You Should Be Aware of
There are the regulars that everyone's talking about – mobile friendly, responsive. This applies not only to websites, but also to newsletters, your blog posts, email campaigns, as these are increasingly being viewed from mobile devices. Most importantly, Google mobile friendly search that it's changing its search algorithms to rank mobile-friendly sites first. Making all payment forms available from mobile devices (like Paypal) is a must.
Another trend that's slowly making its way in is the previously mentioned live chat. That's a cool one to implement, as long as you can answer within 30 seconds of the question.
Internationalizations is a big one. Taking into consideration global events and celebrations. For example "Single's Day", which is big in China, and has become an even bigger shopping event, even bigger than Black Friday. Taking these celebrations into consideration can open up entirely new markets for you.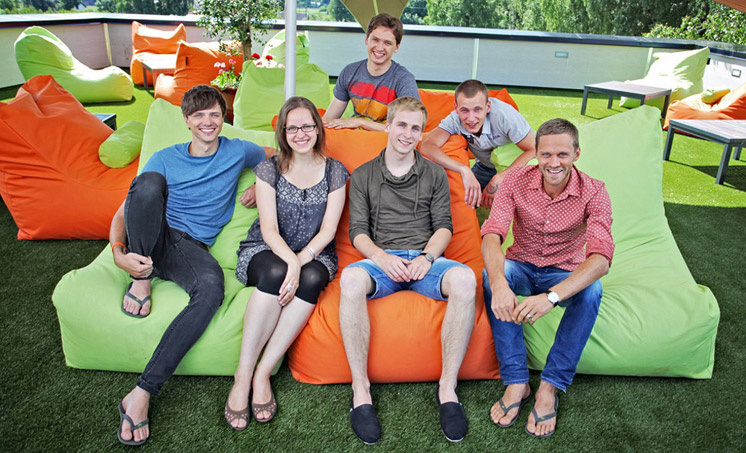 Startup Vitamins e-Commerce Store Runs on Tailor-Made Software
Right now our platform is custom built. When we were first starting out we were using Shopify, but realised that there were too many limitations as we grew (things like the kinds of discount codes you could offer, as well as the commission they were asking). Since we had the programming resources to make our own, that's what we did.
Julia's 5 hot tips for Finnish e-commerce stores to improve their customer experience
Aim towards answering support questions in a certain amount of time, and become consistent with it.
Use a customer service software – it helps keeping some questions from slipping through the cracks.
Use real names, rather than an anonymous support emails. Better yet – add a photo!
Consider re-shipments a marketing expense – a happy customer is likely to tell their friends about you, and word of mouth marketing is very valuable.
Use the Golden Rule – tell your customers what you would want to hear if you had a similar problem. Empathy goes a long way.
New Products Are Coming Up + a Free Coupon Code for Sofokus Blog Readers!
We're really close to launching three new products – watches, wooden posters and iPhone cases!
You can use the discount code "SNAZZY" for a 15% discount! And make sure to follow us on Facebook and Twitter to find out when those products are launched.
Thanks a lot for the interview Julia, it was a blast!
And if your walls are white and empty, be sure to check out Startup Vitamins. I can warmly recommend it. 🙂