Why Sofokus Ventures invested in BlogTec – Interview with founder Manuel Brandt
5 Jan 2023 • Ventures & Startups
Sofokus Ventures invests in early-stage Digital Heart startups with a strong emphasis on healthy company culture and the ability for fast business adaptation. To give a clearer image of what that really means, we want to introduce you to some of the startups we have invested in. This time, Sofokus Ventures interviews BlogTec, a digital marketing platform company, and its founder Manuel Brandt.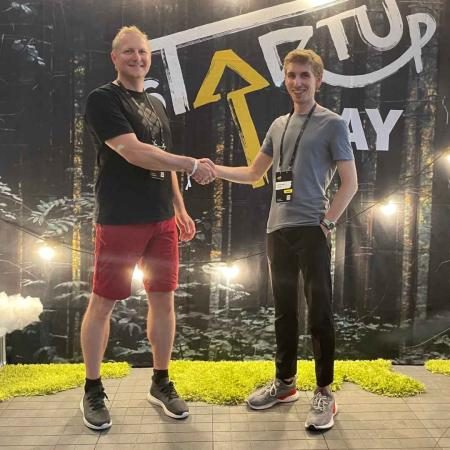 The background of the founder
BlogTec was founded in 2020 by Manuel Brandt, a young German entrepreneur who was only 23 years old at the time. Manuel built his first website at the age of 11 and has been steadily involved with digital projects ever since. Music is another passion for Manuel, which led him to build websites for learning how to play the guitar, an internet radio, and even an online shop for hip-hop beats.
At the age of 19, Manuel founded his first startup, a non-profit crowdfunding platform called Infinite Charity. When this project ended, Manuel worked for a startup as the founding engineer and later became the Lead of Product and Engineering. Because of his technical background, Manuel coded the initial MVP version of the BlogTec software platform by himself.
" I already built a startup from 0 to 1M ARR, but with BlogTec our goals are way higher than this."
As an avid traveler, Manuel decided to leave his home country Germany in 2018 and he has been living around the world since then. Now at the age of 23, Manuel has visited 35 countries and lived in some of them for longer periods. Manuel also likes sports and hanging out in coffee shops to meet new people and do work.
The origin story of BlogTec
Back when Manuel was running his first startup, he came across the challenge of getting awareness for his digital service. He realized that the main way to drive traffic was through Google's organic search queries, but found it hard to locate suitable services for various professional services like search engine optimization, content production, paid advertising, and so on.
Manuel learned that there were three main ways in the market to tackle the problem:
In-house. Requires a lot of continuous learning to keep up with best practices. Time spent in this is also away from something else.
Freelancers. The quality of the freelancers varies a lot and managing them is really time-consuming.
Agencies. Although quality might be overall higher, the minimum order terms and pricing would require significant commitment and investment.
"70% of companies are unhappy with their current SEO solution, and this is what we're going to change."
Manuel decided to build a digital platform that connects best SEO and content service freelancers to customers in need of such services. Blogtec.io was born. After positive feedback from the market, Manuel contacted his best friend from high school, Jonas Dießelberg, and asked him to join the growing business. Jonas first started to help as an SEO professional offering his services to companies and later becoming the Operations Lead. Another important early addition to the team was Ruben Schmidt focusing on marketing and sales with over 10 years of experience in Shutterstock and Mcdonald's.
The investment journey so far
The team managed to bootstrap the company successfully to almost half a million euros in revenue profitably, so the company wasn't in a dire need of external capital. Still, the team had high ambitions to grow, so they decided to look for "smart money" investors – angels and early VC:s bringing their expertise along with capital. BlogTec decided to launch a pre-seed round to fully figure out a scalable business model and boost growth. As a young founder, Manuel had to pretty much start from scratch by cold contacting investors in the Baltics.
"Our six-digit pre-seed round was pretty difficult to raise for us and took over half a year."
Manuel got in contact with Sofokus Ventures, which became the lead investor in the funding round. The business model wasn't still 100% figured out, but Sofokus and BlogTec people decided to design it together along the way. Sofokus Ventures introduced Manuel to a bunch of investor candidates and Manuel put up the work needed to attract additional investors (such as a detailed investor letter). Sofokus also helped to get the basics (Shareholder agreements etc.) in order BlogTec to be investment-ready.
"The most difficult part of raising money, especially if it's a round with angels, is to build the network."
A modern startup requires a modern company culture
One of the things Sofokus Ventures look for is a strong and modern company culture. Company cultures are always unique, so it is fascinating to learn about how companies approach nurturing and development. Blogtec team members work from Germany, Portugal, South Africa to the Philippines – team members are working remote from practically everywhere.
"What's pretty unique about Blogtec is that we're a completely remote global team."
BlogTec has three core values: 'Freedom and Trust', 'Customer Experience is Key', and 'Fast & Driven'. BlogTec believes that it doesn't matter whether you work from the beach or an office, wear a suit or shorts or work 9 to 5 or not. Ownership and responsibilities are promoted and the atmosphere at the (remote) workplace is democratic – everyone's voice matters.
The future of Blogtec looks bright
Now that the funding round is closed, there's a lot of brewing on the future of BlogTec. Next year BlogTec launches a new app for professionals and a new AI-based system to improve efficiency. BlogTec plans also introducing at least two additional languages to the current German and English ones. One milestone is to reach 10.0000 completed projects on the digital platform.